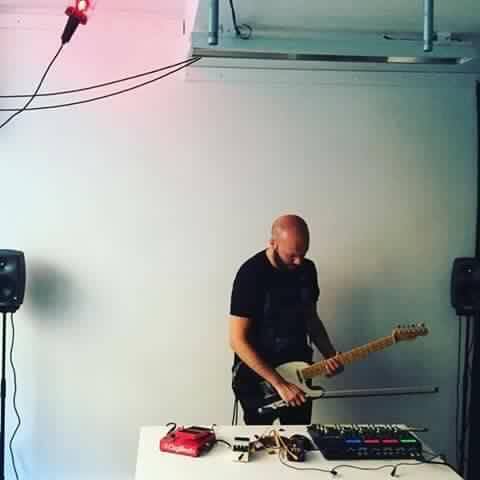 THE STAR PILLOW

The Star Pillow is a project of Paolo Monti active from December 2007, mainly based on the research and expansion of the possibilities of use of the electric guitar in the experimental music in the relationship between sound, space and human emotions.

To date The Star Pillow published 8 discs:
"Christmas Session" (Taverna Records 2009)
"Not t'illudere" (Taverna Records 2011)
"Environmental Factor" (Taverna Records 2012)
"The Beautiful Questions" (Bristle Pig / Taverna Records 2013)
"Via del Chiasso" (Bristle Pig / Taverna Records 2013)
"All is Quiet" (Paradigms Recordings 2014)
"Livorno" (Taverna Records / Manzanera Label 2015)
"Above" (Time Released Sound 2016)

Continues uninterruptedly to play several live throughout Italy, including Sardinia, and abroad (to date he has performed in Italy, France, Belgium, Holland, Germany, Poland, Latvia, Estonia, Finland). It has been well reviewed in leading publications, from Blow Up to The Wire bible, through the essential and challenging undergrowth of Italian and foreign webzines and was approached sacred names like Brian Eno, Angelo Badalamenti, Album Leaf, Sigur Ros, Philip Glass, Steve Reich, Teho Teardo, Fennesz, Biosphere, Johan Johansson, thisquietarmy, Aidan Baker and many others.
He has shared the stage with the likes of Dirk Serries, Machinefabriek, Modelbau, N + [Bolt], StringStrang, Poteau Mitan, BARST, Treha Sektori, Fuzz Orchestra, VipCancro, Antonio Caggiano, Thank U For Smoking, Eugenio Sanna, Maktub Noir, Gipsy Rufina Ornaments, Slow, Bologna violent, Mombu, Neo, thisquietarmy, Gianluca Becuzzi, Andrea Borghi, Giovanni Lami, Michele Spanghero, Fabrizio Testa, Roberto Bertacchini, took part in two editions of the Tagus Fest (IT), Sound Next (IT), HANS Festival (NL), Kukemuru Ambient Festival (EST).
Actively working for 4 albums and numerous concerts with pianist Federico Gerini. He played with thisquietarmy (Erich Quach), Thank U For Smoking, Bruno Romani Stefano Giust, Patrizia Oliva, Fabrizio Testa, Roberto Bertacchini, Alessandro Cau, Giuseppe Nannini, Francesca factors, Marco Fagioli, Valentina Cinquini and many other friends.
He has had the invaluable contribution in the artwork of Stefano Giannotti in Environmental Factor, and two videos to the director's signature Roberto Beani, former director of the collective Zimmerfrei photography.
In 2016 it will be released the new audio visual project DAIMON Paolo Monti Nicola Quiriconi quartet noise / electro VipCancro and Simon Balestrazzi historical name of the Italian experimental music.

Francesco Zedde (Tacet Tacet Tacet)
Degree in electronic music at the Conservatory Rossini in Pesaro in 2016, currently is specializing in sound design at the Martini Conservatory in Bologna.
Composer mainly concentrated in the three-dimensional spatial sound and audiovision.
Active since 2007 as drummer and electro-acoustic performer, mainly in the field of noise, ambient and experimental activity
concert was held to date in Italy, France, Germany, Poland, Slovenia, Austria and Norway.
To date have been published 6 albums and ep 2 in which he participated as a musician, he was a member of various formations of various kinds between
which Butcher Mind Collapse, A.N.O., Kree Mah Stre, Dream Lense.

Tacet Tacet Tacet is a collective audio-visual art from Jesi (an) and Bologna; Active since the summer of 2015. The original design of a
concept album about the emotional suggesioni associated with the human body apparatus is expanded by the experimental short film
realized by Pupeschi and Ceccarelli, respectively editor / filmmaker and director active in Bologna, the compositions of Zedde
They are often presented live together with Amagliani musicians (synthesizers) and Vindusca (violin).